Future NOAA Satellite Architecture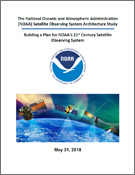 NOAA continues to prioritize engagement with industry as we develop our next-generation space architecture beyond the JPSS and GOES-R Series programs based on findings from the NOAA Satellite Observing System Architecture study.
2020 Contract Awards
On April 3, 2020, NOAA's National Environmental Satellite, Data, and Information Service (NESDIS) began awarding contracts for satellite mission and instrument design analysis. NESDIS is building on the findings from the NOAA Satellite Observing System Architecture (NSOSA) study. NESDIS will use these analyses to advance the implementation planning for NOAA's satellite programs beyond the current GOES-R and JPSS series.
These contract awards follow a pair of Broad Agency Announcements issued by NESDIS last fall, calling for ideas to be submitted from the commercial and research sector. After a formal review of the submissions, NESDIS directed Requests for Proposals to selected offerors.
NESDIS intends to award contracts through April and early May 2020.
The contracts awarded to date (through April 22, 2020) are:
York Space Systems: Gaea – LEO SounderSat Mission Concept Study
SSL: Commercial Hosting Service for Sustained GEO Weather Missions
Leidos: GEO Earth Multispectral Mapper (GEMM) for Terrestrial Weather Imaging, Leidos
L3Harris: Advancing Today's ABI Foundation into the Next-Gen GEO Imaging Solution
L3Harris: Joint LEO Sounding Mission Study
GeoMetWatch: Global HyperSpectral Atmospheric Sounding Capability: Commercial Fee-for-Service Option
BAE Systems Information and Electronic Systems Integration: Infrared Sounding Instrument Constellation Study
Brandywine Photonics: MetNet Small Weather Satellite Network Mission Concept
ASTRA: Weather (G-CLAW)
Raytheon: Real-time Imager
Lockheed Martin: Flexible Hosted Imager (FHI): Advancing Today's ABI Foundation into the Next-Gen
Details on these awards are available at SAM.gov (Select "Award Notices")
Awardees will conduct their analyses through late 2020. The results will inform NESDIS's next-generation programs and develop capabilities that will augment and replenish NOAA's satellite systems.
2019 BAAs & Industry Days
On October 3, 2019, NESDIS released a pair of Broad Agency Announcements (BAAs) to engage the commercial sector in developing new concepts for instruments, spacecraft, business models and mission elements for NOAA's future space-based observation architecture beyond the JPSS and GOES-R systems.
View solicitation and information at SAM.gov
NOAA hosted industry day events on October 17-18, 2019, to provide more information to interested parties. Details are available at the link above.
The BAAs seek information which will lead into funded concept studies of two critical elements of NOAA's future space-based architecture:
Instrument and architecture concepts for remote sensing capabilities in geostationary and extended orbits. These instrument and mission concepts would serve to continue capabilities currently supported by GOES-R, SWFO, DSCOVR, and other solar observation satellites.
Instrument and architecture concepts for small satellites focused on sounding (SounderSat) in Low Earth Orbit (LEO) as part of a disaggregated LEO constellation. While this LEO BAA is focused on sounding, it is only one step in a broader effort to develop a comprehensive LEO architecture. NESDIS will release requests for methods and concepts to meet other observation needs in the near future, consistent with the availability of funds. Through this sustained engagement, NESDIS intends to work with the community to develop a more advanced and agile LEO architecture and make technology, platform and business model innovations operational on more rapid timescales.
In the funded studies to result from these BAAs, NESDIS seeks information and guidance on how the community could provide instruments and capability both near-term and in the post-2030 space-based observation architecture.
NESDIS intends to inform its development of NOAA's future architecture using fact-based analysis of new ways to both collect observations, in the form of different instruments across a range of performance values or advancements in spacecraft and platforms, as well as new models for doing business, such as hosting arrangements, commercial services purchases or other collaboration with industry.
NSOSA Study
On May 31, 2018, NOAA released the NOAA Satellite Observing System Architecture (NSOSA) study for public comments. The comment period closed July 2, 2018.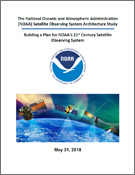 View report and public comments at regulations.gov
Industry Day
On June 21, 2018, NOAA hosted a community day to address questions and hear comments about the NSOSA study. The day included a public event followed by a series of one-on-one meetings.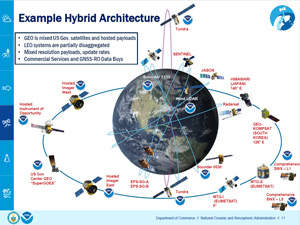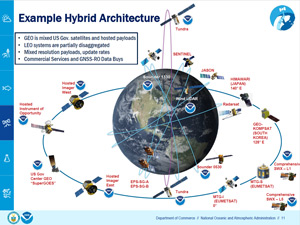 Download presentation slides from the event (2 MB PDF)