The NOAA Commercial Space Policy calls for NOAA to explore and pursue demonstration projects to validate the viability of adding commercial environmental data and products into NOAA's meteorological models and to meet NOAA Earth observation requirements.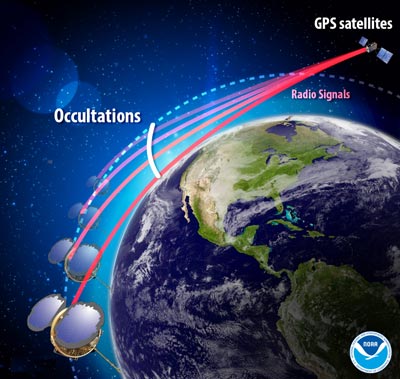 NOAA's Commercial Weather Data Pilot (CWDP) will serve as one such demonstration project. NOAA will evaluate commercial data to demonstrate the quality of the data and its impact to weather forecast models, and to inform NOAA's process for ingesting, evaluating, and utilizing commercial data in the future.
Based on the findings of recent market research and FAR processes (e.g., Requests for Information), NOAA selected GNSS radio occultation (GNSS-RO) as the most suitable data type for the first two rounds of the CWDP.
RFI for CWDP Round 3 & Other NOAA Requirements
On May 21, 2018, NOAA released a Request for Information (RFI) seeking information on commercial capabilities to support CWDP Round 3 and other NOAA observation requirements.
This general RFI seeks information on commercial capabilities to support NOAA observation requirements in the FY 2019 through FY 2021 timeframe. The RFI is open for 60 days.
CWDP Round 2 (2017-2018)
Building on the CWDP Round 1 purchase and evaluation of radio occultation data, Round 2 incorporates additional operational considerations for a second radio occultation data purchase and evaluation period.
NOAA will use CWDP Round 2 to:
Conduct an evaluation of the data's impact on NOAA's numerical weather prediction models that will further support the demonstration of radio occultation data; and
Develop internal infrastructure needed to pursue procurement of commercial radio occultation data operationally.
Contract Awards
On September 17, 2018, NOAA awarded contracts to GeoOptics, Inc., Spire Global, Inc., and Space Sciences and Engineering LLC as part of the Commercial Weather Data Pilot Round 2.
GeoOptics, Spire Global, and Space Sciences and Engineering will each provide space-based GNSS radio occultation data to NOAA for the purpose of demonstrating data quality and potential value to NOAA's weather forecasts and warnings. The companies have until July 31, 2019, to complete the delivery of their data. NESDIS will conduct an assessment of the data through the beginning of FY 2020 and will produce its final report in mid FY 2020.
Request for Proposals
On April 25, 2018, NOAA released the Request for Proposals (RFP) to support Commercial Weather Data Pilot Round 2.
Industry Day
On June 19, NOAA hosted the fourth in its series of community engagements with the commercial space industry. The Industry Day focused on the details of the draft RFP for CWDP Round 2 and addressed questions and comments raised during the comment period.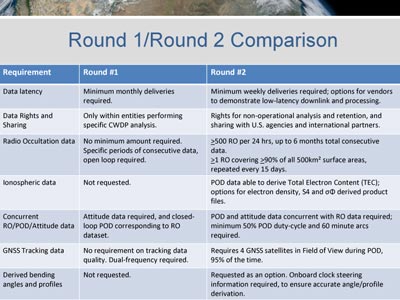 Download the presentations and Q&A from the public session (1.4 MB PDF)
In addition to the open session, NOAA held one-on-one sessions with companies and interested organizations to discuss business sensitive details.
Draft RFP
On May 26, 2017, NOAA released a draft Request for Proposals (RFP) to support Round 2 of the CWDP. The draft RFP was open for public comment through June 9, 2017.
New Legislation
Origin & Initial Plan
FY 2016 Direction
Congress initiated the CWDP with the following language in the FY 2016 omnibus funding measure:
Commercial Weather Data Pilot.—NOAA shall, through an open competitive process, seek to enter into at least one pilot contract to assess the potential viability of commercial weather data in its weather modeling and forecasting. This funding shall be used to purchase, evaluate, and calibrate available data, which meets the standards and specifications set by NOAA in its Commercial Data Policy. NOAA shall provide the Committees a report on how it plans to implement the commercial weather data pilot program not later than 60 days after the enactment of this Act.
View source (23 MB PDF, p. 44)
Report to Congress
NOAA's March 2016 report to Congress provides the initial plan to execute the CDWP, including timelines.