NOAA Industry Day on Round 2 Data Pilot
On June 19, NOAA held a community engagement event to discuss Round 2 of its Commercial Weather Data Pilot (CWDP). The event served to address questions about the draft Request for Proposals (RFP) issued on May 26, 2017. The event included a public session and one-on-one meetings with companies and other interested organizations.
NOAA officials delivered the following presentations during the public session:
Overview of NOAA's Commercial Weather Data Pilot, Karen St. Germain, Director, NOAA/NESDIS Office of System Architecture and Advanced Planning (OSAAP)
Sarah Waugh, Contracting Officer, NOAA/AGO Satellite and Information Acquisition Division (SIAD)
The presentations are posted at SAM.gov, along with a summary of the questions and answers discussed at the event.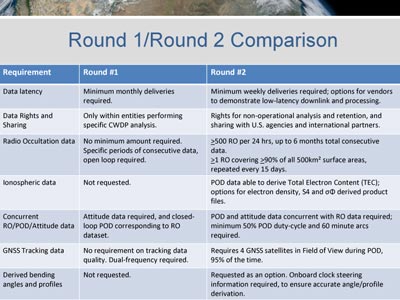 Download the presentations and Q&A (1.4 MB PDF)
NOAA will evaluate all inputs received during the industry day prior to issuing its final RFP for CWDP Round 2.