Secretary Ross to Host Space Startup Summit on Oct 21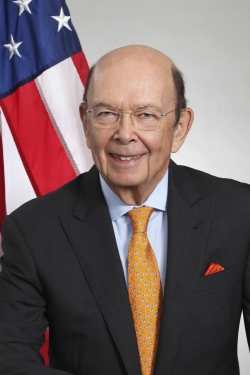 (Update to original post of September 26, 2019)
The Department of Commerce will host a special event on space startup innovation and financing on Monday, October 21, 2019, from 9:00 a.m. – 12:00 p.m., while the International Astronautical Congress (IAC) is in Washington. We are organizing the event in coordination with the National Space Council.
The purpose of the event is to expose policy makers to the breadth of space-related innovation and entrepreneurship occurring at early stage startups across the United States, and to suggest ways the government can foster and leverage that innovation.
Secretary of Commerce Wilbur Ross is confirmed to participate as both a speaker and a moderator. The event will also feature speakers from Starburst Accelerator, AWS Aerospace Pop Up Accelerators, Dcode, several startups and venture capital firms, and federal R&D agencies.
Location
U.S. Department of Commerce
Herbert C. Hoover Building
1401 Constitution Ave., NW
Washington, D.C.
In the Auditorium – changed from Library
Enter through the Main Lobby on 14th Street, across from the Ronald Reagan Building. Please do not use any other entrance unless you are a federal employee. Pass through x-ray screening and present government-issued ID at the front desk.
Agenda
8:00-9:00

Check-in

9:00-9:05

Welcome and Introduction

Kevin O'Connell, Office of Space Commerce

9:05-9:15

Keynote Address

The Honorable Wilbur Ross, Secretary of Commerce

9:15-10:00

Panel 1: The State of Space Startup Financing

Moderator: Hon. Wilbur Ross, Secretary of Commerce
Chad Anderson, Space Angels
Van Espahbodi, Starburst Accelerator
Jose Ocasio-Christian, Caelus Partners
Lisa Rich, Hemisphere Ventures
Rob Ruyak, Amazon Web Services

10:00-10:30

5-Min Lightning Talks by Startups

Vanessa Clark, Atomos Space
Blair DeWitt, Lunar Station Corporation
Justin Kugler, Made In Space
Michael Suffredini, Axiom Space
Adam Wong, Analytical Space

10:30-10:45

Break

10:45-11:00

Remarks

Maj. Gen. Nina Armagno, U.S. Air Force

11:00-11:45

Panel 2: How the Government Can Foster and Leverage Startup Innovation

Moderator: Michael Beavin, National Space Council
Nate Ashton, Dcode
Brig. Gen. Steve "Bucky" Butow, Defense Innovation Unit
Christie Cox, NASA
Karen St. Germain, NOAA
Stacie Williams, DARPA

11:45-12:00

Wrap-Up & Networking