President Macron, VP Harris Discuss Space Cooperation

On November 30, during his State Visit to Washington, French President Emmanuel Macron met with Vice President Kamala Harris, Deputy Secretary of Commerce Don Graves, NASA Administrator Bill Nelson, NOAA Administrator Rick Spinrad, and other top leaders to discuss U.S.-France space cooperation.
View meeting summary at whitehouse.gov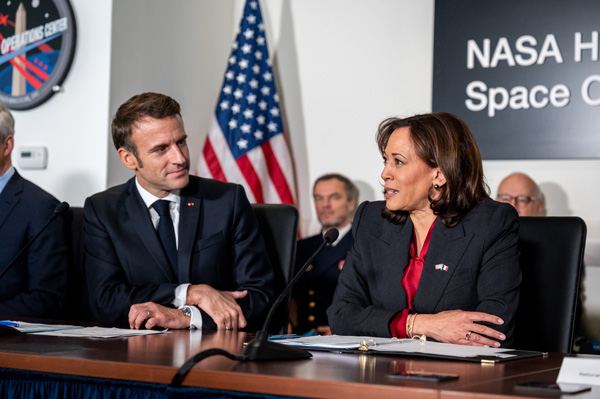 The meeting included a session focused on commercial space collaboration between the United States and France, organized by the Office of Space Commerce.
Deputy Secretary Graves briefed President Macron on the government-industry "Track 1.5" session held earlier this month in conjunction with the U.S.-France Comprehensive Space Dialogue. The Deputy Secretary explained the issues and challenges raised in Paris by both U.S. and French industry representatives.
Representatives from various U.S. commercial space firms presented their successful collaborations with French partner companies and discussed challenges faced while trying to create these partnerships.