NOAA Issues Commercial Space Policy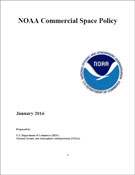 Today, NOAA issued its Commercial Space Policy, which sets a broad framework for use of commercial space-based approaches for the agency.
The document, NOAA Administrative Order 217-109, establishes critical components for engaging with the commercial sector.
The policy reflects public comments received on the draft released last September.