Workshop on GIS Capabilities for Civil Government Agencies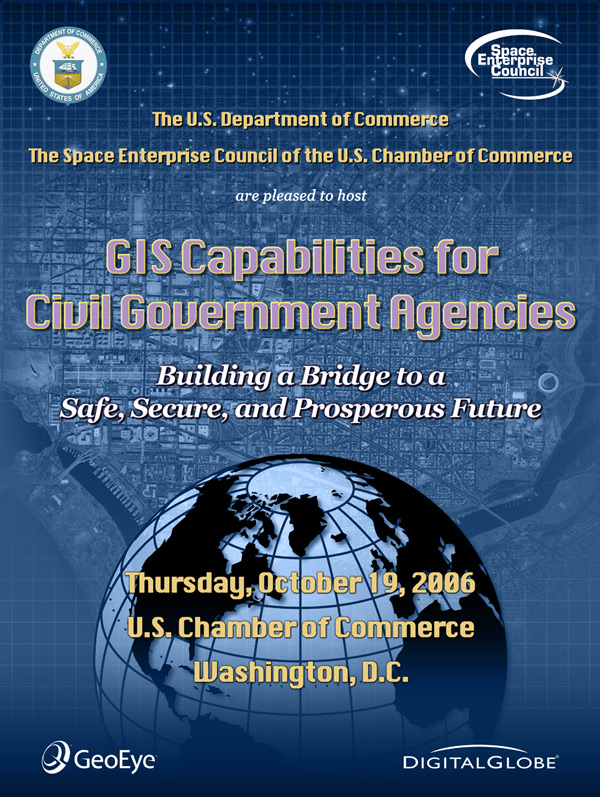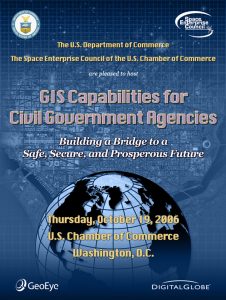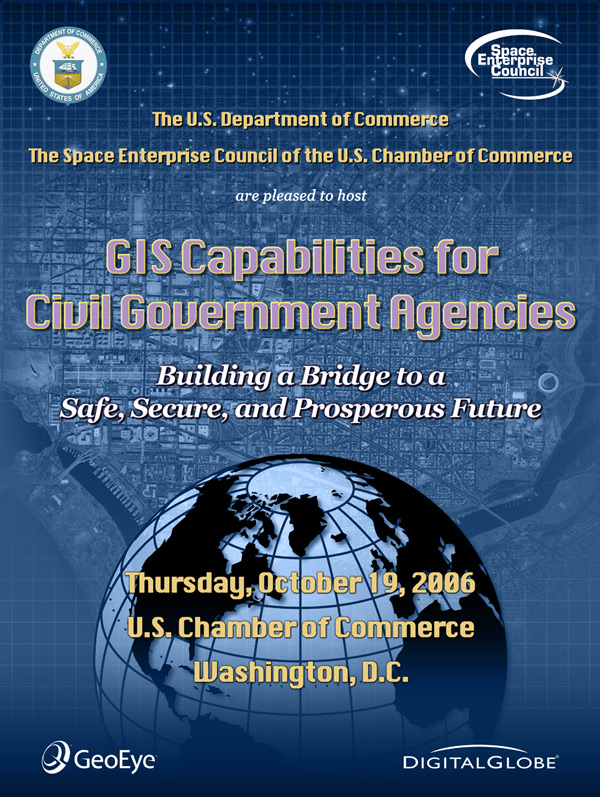 On October 19, 2006, the Office of Space Commercialization and the Space Enterprise Council of the U.S. Chamber of Commerce co-hosted a public workshop on "GIS Capabilities for Civil Government Agencies: Building a Bridge to a Safe, Secure, and Prosperous Future."
The event brought together commercial providers and civilian government users of GIS technology. Over 100 participants attended the event.
Speakers included:
David Logsdon, Executive Director, Space Enterprise Council, U.S. Chamber of Commerce
Ann Beauchesne, Executive Director, Homeland Security Division, U.S. Chamber of Commerce
Robert Zitz, Deputy Under Secretary for Preparedness, U.S. Department of Homeland Security
Ed Morris, Director, Office of Space Commercialization, NOAA
Michael Beavin, Senior Program Analyst, Office of Space Commercialization
Glenn Bethel, Senior Remote Sensing Advisor, U.S. Department of Agriculture
CAPT Curt Dubay, Chief, Office of Systems and Architecture, Maritime Domain Awareness, U.S. Coast Guard
Emma McNamara, Director, Information Access Division, Environmental Protection Agency
Carol Brandt, Geospatial Information Program Manager and Acting Assistant Director for Information Systems, Research and Innovative Technology Administration, U.S. Department of Transportation
Miki Schmidt, Branch Chief, Costal Geospatial Services, NOAA Coastal Services Center
Eve Douglas, Senior Program Analyst, Office of Space Commercialization
Jill Smith, CEO, DigitalGlobe
Matt O'Connell, CEO, GeoEye
George May, CEO, Institute for Technology Development
Mark Schultz, Director of Intelligence, ESRI
Bruce Peetz, Vice President Advanced Technology, Trimble Navigation Limited
Brian Patton, Director of Asset Management, City of Seattle Public Utilities
Douglas McGovern, Chief, Commercial Solutions Division, National Geospatial-Intelligence Agency
John Palatiello, Executive Director, MAPPS
Barbara Ryan, Associate Director for Geography, U.S. Geological Survey
Presentation materials are available upon request.