Plain Language Guidebook on Satellite Export Controls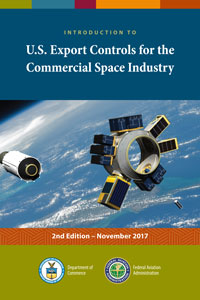 Today, the Office of Space Commerce and the FAA Office of Commercial Space Transportation published the second edition of their Introduction to U.S. Export Controls for the Commercial Space Industry.
The guidebook provides basic information to help commercial space organizations, especially emerging entrepreneurial firms, considering business in the international market. It is intended to serve as a starting point in the preparation for the export control process.
The publication offers plain language explanations of:
Satellite export controls
Export control reform
How the control lists work
How to apply for a license or use a license exemption and
Ensuring compliance after export authorization.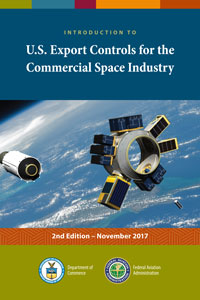 Download guidebook as PDF (2.7 MB)
The Office of Space Commerce thanks the State Department, the DOC Bureau of Industry and Security, and TriVector Services, Inc., for their assistance in developing the guidebook.